30 October 2020
Image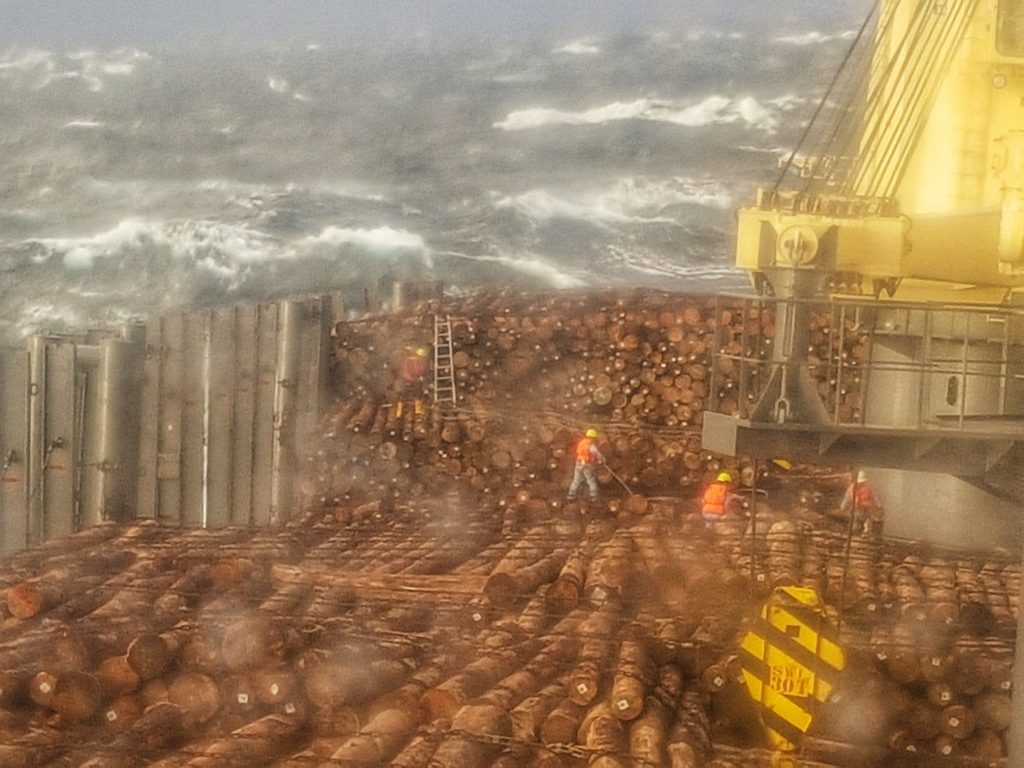 'Hero at sea' by S Dagandanan - shown above
We're really pleased to announced the winners of the Still At Sea photography competition, which invited seafarers to submit digital photos of their lives at sea during the pandemic. The competition received an incredible response; with almost 3,000 photographs submitted. The photos showed the huge variety of experiences of seafarers at sea during the pandemic, from personal portraits and day to day life, to extreme weather and deserted cruise ships.
The first prize of £1000 was won by engineer Ike S. Dagandanan for his photo "Hero At Sea". At a glance this striking image looks like a painting but closer inspection reveals crew members wrestling to secure cargo in wildly stormy seas. The judges felt it showed the reality of the dangers seafarers face, the extreme weather and the sheer scale of the ship and seas around the seafarers struggling to contain the cargo after 40 days at sea in total lockdown.
Mr Dagandanan told the Trust "Duty on the bridge notice that collapsible stanchion on portside were damaged and lashings on top of the logs were broken due to heavy rolling. It was so scary that some of the crew including me were preparing what might happen, thinking that cargo will go overboard and put us all in danger. But I saw brave heroes at sea as they put additional lashings to avoid putting the cargo and crew in danger. With prayer, good seamanship and teamwork we arrived our discharging port in China safely".

A total contrast, the second prize was awarded to Jay Michael A. Ebueza for his photo "Secretly Quiet". Mr Ebueza's description commented simply "Amidst pandemic, beauty exists". Judges were impressed with the beauty and composition of the arctic coastal landscape as seen from the bridge of a ship, as well as its message of hope and demonstration of the resilience of seafarers who can see the beauty of the natural world despite the impact of the pandemic.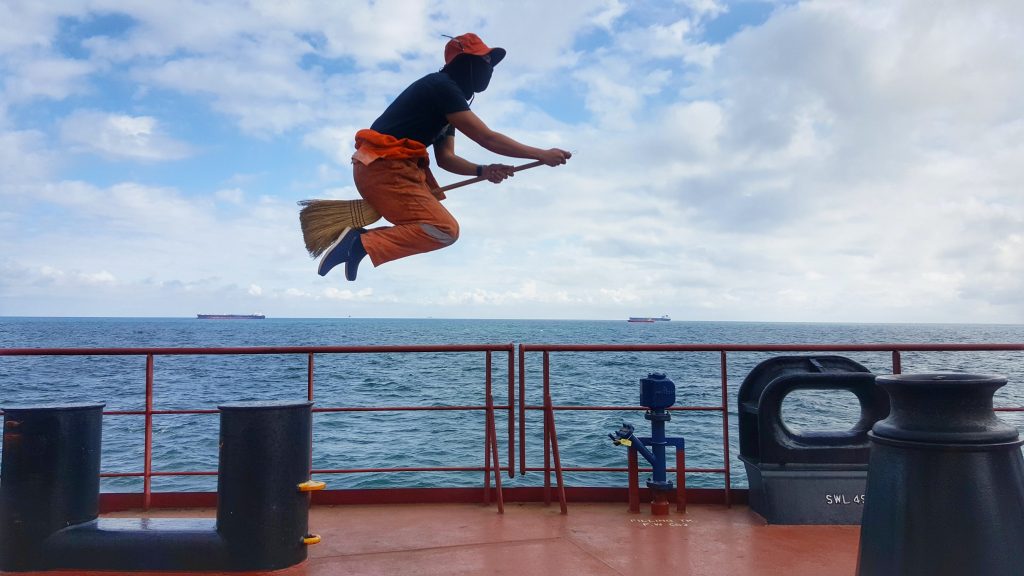 The Still at Sea competition was created to connect with seafarers who have had to stay at sea well beyond their contracts as governments around the world have failed to cooperate to facilitate crew changes. Third prize was awarded to Carlo Deuxson Santiago for his image "No sign off? No problem" of a seafarer "flying away" on a broomstick. Many entries to the competition showed a great sense of humour, imagination and fun with this image showing a fun and creative reply from a seafarer to a seriously frustrating situation.
In addition, judges recognised three further photographs as highly commended. Ceo Angelo D. Fajardo's image of a seafarer cadet, "Back to Work"; John Rufo M. Bontilao's "Shower Party" depicting seafarers cleaning out a cathedral-like ship's hold; and Mayvine Cloma's "A Brave Woman that can make a difference" portrait of a seafarer.
President of World Maritime University, Dr Cleopatra Doumbiah-Henry said "In judging the competition, it was impossible to ignore the impact that the pandemic has had on seafarers, however the beauty and humour that seafarers often chose to highlight in their photos is a testament to the resilience of those who work aboard ship."
"The response to 'Still at sea' has been phenomenal" said Katie Higginbottom, Head of ITF Seafarers' Trust "The judges had an almost impossible task in making their selection from such an array of accomplished and hugely varied photographs. We're really pleased for the winners, but more than that we're delighted to have amassed a unique archive that reflects the breadth of seafarers' experience during this extraordinary time of pandemic. Together with the images we have a rich collection of stories and descriptions of how it is to be still at sea while the pandemic rolls on."
The Seafarers' Trust intends to use the 'Still at sea' archive to raise awareness of the day-to-day lives of seafarers to the world outside maritime.
Follow us on Facebook @ITFTrust and Instagram @SeafarersTrust to see more of the images and stories that seafarers shared with the Still At Sea competition.
Keep up to date with the latest our social media channels: ITF Seafarers' Trust on Facebook  and  ITF Seafarers' Trust on Twitter