06 December 2021
For immediate release
Image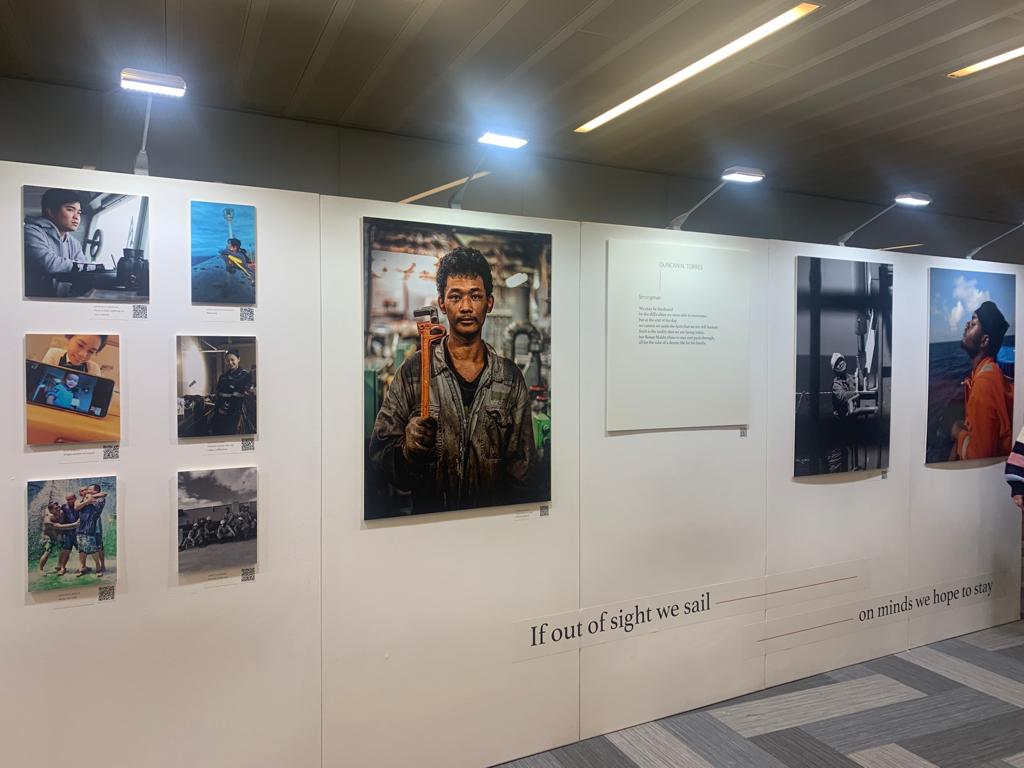 A unique photo exhibition has launched in London this week showcasing the experiences of seafarers during the Covid pandemic.
The collection features images taken by seafarers and submitted to two competitions run by the International Transport Workers' Federation (ITF) Seafarers' Trust in 2020 and 2021 with the themes of 'Still at Sea' [1] and 'Out of Sight, Not Out of Mind' [2].
A selection of the photos is being put on show at the headquarters of the International Maritime Organization (IMO) - a branch of the United Nations – to coincide with the IMO Assembly when delegations of governments from around the world gather to approve the IMO's programme of work and elect members to its Council.
Head of the Trust Katie Higginbottom said: "The aim of this exhibition is to remind politicians and policy makers of the real human stories behind 'the human element' of the maritime industry. It provides a timely insight into the experience of seafarers during the Covid-19 pandemic as governments consider their responses to the latest variant of the virus.
"These striking images remind us of the day-to-day isolation of seafarers, far from family and friends, pursuing their profession with stoicism and pride, as they keep the world's vital supply chains moving."
Commenting on the 'Out of Sight, Not out of Mind' exhibit, IMO Secretary-General Kitack Lim said: "Our seafarers are heroes. We are so pleased to be able to host this exhibition which is truly unique. This amazing workforce and the activities they undertake day after day, often goes unseen. As they remain out of sight we often forget to fully acknowledge the importance of their work – this exhibition helps us to counter that by making their important contribution visible."
ENDS
For further information please contact:
Mary Bollan
Office and Communications Manager
+44 (0)7786 516131 / +44 (0) 20 7940 9315
Note to editors
[1] https://www.seafarerstrust.org/news-and-press-releases/news/hero-sea-wins-still-sea-photography-competition
[2] https://www.seafarerstrust.org/news-and-press-releases/news/seafarer-wins-trust-competition-stunning-portrait-depicting-life-sea
About the ITF Seafarers' Trust
The ITF Seafarers' Trust is a UK charity established in 1981, which supports initiatives to advance the welfare and wellbeing of maritime workers, seafarers and their families. Our funding comes from the International Transport Workers' Federation, a global federation of transport workers' unions representing nearly 20 million members, and from our own investment income. https://www.seafarerstrust.org/about-the-trust/about-us
About the IMO
IMO – the International Maritime Organization – is the United Nations specialized agency with responsibility for the safety and security of shipping and the prevention of marine and atmospheric pollution by ships. https://www.imo.org/en