03 November 2022
For immediate release
Image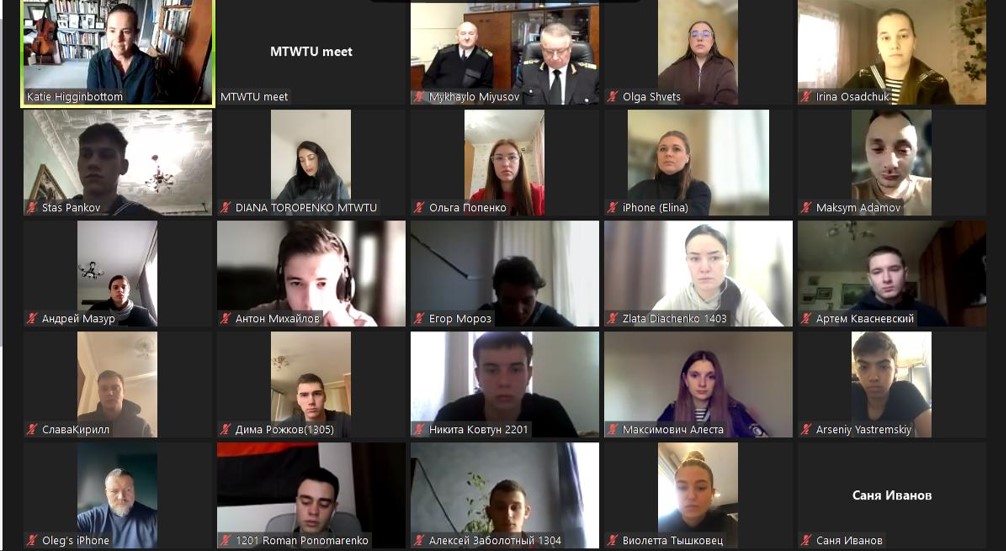 The ITF Seafarers' Trust, the Marine Transport Workers Union of Ukraine (MTWTU) and Odesa Maritime Academy are delighted to announce the launch of a new initiative to help Ukrainian cadets complete their studies and look to the future.
As part of this joint project, the Trust will pay the cost of training for 32 NU "OMA cadets", MTWTU-members, without the financial means to do it alone. The project includes debt repayment for the 2021-2022 academic year, as well as payment for the coming year. Orphans, children of conscripted seafarers, and children from low-income families are among the beneficiaries of the project.
For many years, Ukraine has held a leading position training maritime personnel for the international labor market, with some of the best shipping companies recruiting Ukrainian cadets and training young and promising seafarers to work on their ships.
Eight months ago, the Russian invasion of Ukraine led to a significant crisis in all areas, including the maritime industry, which had only recently started to recover from the effects of the COVID-19 pandemic.
According to industry experts, the war, and subsequent martial law in Ukraine has, over the last 8 months, caused a new crisis of crew changes and a sharp shortage of personnel in the international maritime labor market. In addition, the future of cadets in maritime schools is under threat.
The Trust, along with MTWTU are aiming, as far as possible, to prevent and resolve these negative consequences of the current situation in the maritime sector.
In September the Trust and MTWTU launched a project to help cadets of the Kherson State Maritime Academy (KSMA) complete their studies and undergo the necessary seafaring practice.
The next step is the implementation of the project for cadets of the National University "Odesa Maritime Academy".
Supporting Ukrainian seafarers 'privilege and obligation'
Launching the event with students online, Katie Higginbottom, Head of ITF Seafarers' Trust said:
"For us, this project is not welfare - it is about the principal position to support the future prospects of Ukrainian cadets. Today, we do whatever we can to somehow mitigate the difficulties the cadets are having to endure due to the war. I have to say all credit to Oleg, Elina, and the MTWTU team. We started working in Ukraine by establishing a project to support seafarers' families to leave Ukraine. We moved on to help graduates from Kherson, who are in a particularly challenging situation. And now, I am very pleased to see that we have been able to conclude this agreement with Professor Miyusov and colleagues in Odessa. For me, this is a privilege and obligation and the least we can do to enable participants to complete this part of their studies and have a successful future in the maritime industry." 
--
Oleg Grygoriuk, MTWTU Chairman continued: "We appreciate that ITF leadership is open to all our initiatives.  As well as being involved in the Trust project, I am the Head of the Advisory Board of the ITF-ETF Solidarity Fund, which is organizing humanitarian and social support to the Ukrainian seafarers, dockers, and all of our Union members. We continue to do that work, but the ITF Seafarers' Trust is a significant part of all the efforts, and we make a lot of difference due to the Trust's support. 
Also, I want to thank the leadership of the Academy. For all these years we were great partners and we took many steps together to make our members and cadets happy and to improve the technical state of the Academy's equipment. And we did all possible from our side to continue this work even during COVID and war periods. So we are doing our very best and will continue to support our maritime education in general, and our Academy in particular.
"Thank you so much, and I hope this is not the last project we are running together," said Mr Grygoriuk.
--
Speaking on behalf of Odesa Maritime Academy, Mykhaylo Miyusov, NU "OMA" rector commented: "We have been cooperating with the ITF and the MTWTU for many years. It is very important for us that our colleagues and friends, at this difficult for all Ukrainians, decided to implement such an important and timely social project. Currently, several thousands of students and cadets study at our University; about half of them – at the expense of the state budget. The rest pay for education, accommodation, and meals. With the beginning of the military aggression of the Russian Federation in Ukraine, many Ukrainian families lost not only their income but also their housing and property."
"The project by ITF Seafarers' Trust will allow our cadets who are in a difficult situation not only to eliminate existing debts for last year's tuition fees but also to continue their studies at the university with payments from the project funds. On behalf of NU "OMA", I would like to express my gratitude to Katie Higginbottom and Oleg Grygoriuk for the support provided for the cadets. Thank you very much!" said Mr Miyusov.
--
Cadets look to the future
The signing of the Memorandum of Cooperation took place on November 2 in an online format.
Two of the participating cadets represented the whole group in conveying their thanks for the unexpected opportunity provided by the project:
"All cadets of NU 'OMA" are very grateful to ITF Seafarers' Trust and MTWTU for their help provided to us. We have the opportunity to continue our learning and gain the necessary knowledge of our chosen specialty. Thanks to your support, we can look to the future with confidence and become the pillar for Ukraine. On behalf of the NU "OMA" cadets, we would like to thank you once again for your concern and trust." - Iryna Osadchuk, cadet NU 'OMA".
"A lot of words have been already said and will be said, but I would like to say personally - thank you. I understand that these are very hard times in our country, and all people need support. And I was pleasantly surprised that someone could help me. I want to say thank you to all organizations - our Trade Union and the ITF Seafarers' Trust for this hard work. Thanks for the opportunity to finish my studies and move on." - Andrii Mazur, cadet NU 'OMA"
ENDS
For further information please contact:
ITF Seafarers' Trust:

Mary Bollan

Communications Manager

+44 (0) 20 7940 9315

MTWTU:

Elina Karavan

MTWTU Head Office

+3 8050 392 03 22

 
Note to editors
The ITF Seafarers' Trust
The ITF Seafarers Trust is a UK charity established in 1981, which funds programmes that advance the wellbeing of maritime workers, seafarers and their families. We are funded by the Trust's own capital funds, and by the investment income of the Welfare Fund at the International Transport Workers Federation, a global federation of transport workers' unions representing nearly 20 million members.
Marine Transport Workers' Trade Union of Ukraine
The Marine Transport Workers' Trade Union of Ukraine is a national trade union uniting more than 80,000 members: seafarers, workers of ports, ship repair plants and enterprises of State Hydrography, professors, cadets and students of maritime educational institutions. The main objectives of the MTWTU are to promote labour rights protection, encourage decent employment opportunities, enhance social protection and strengthen dialogue on work-related issues.
National University "Odesa Maritime Academy"
National University "Odesa Maritime Academy" is one of the largest educational institutions preparing maritime staff and specialists to work onshore. The total amount of cadets and students of the Academy and its branches is about 10000 people. The Academy possesses a modern material and technical base, including up-to-date maritime simulators, due to its participation in international projects and such sponsorships as MTWTU-IMEC, which allows it to engage funds for purchasing and refreshing training equipment.