STILL AT SEA
STILL AT SEA, the ITF Seafarers' Trust photography competition was launched on 25 August 2020 inviting seafarers to share their images of the highs and lows and the spaces in between of life at sea during Covid-19. The competition sought to put a human face and a visual context to the crewing crisis that continues despite the efforts of unions and elements of the shipping industry to pressure governments. The 2,919 submitted photographs form a fascinating archive of the many aspects of maritime life captured between 01 May and 30 September 2020, from engine rooms to fancy dress, from elation at the wonders of nature to despair of isolation and missing of family and friends.
The judges had an extraordinarily difficult task in selecting the three prize winners from such an eclectic collection. The winning images span the full range from the sublime to the ridiculous - heroic, peaceful and humorous in the face of adversity. In the coming months the ITF Seafarers' Trust will be further developing the project to share the many stories of seafarers who are still at sea.
The Winners
Best photographs of life at sea during Covid-19
First place: Ike S. Dagandanan
Hero at sea
We are en route to China from Argentina, 40 days at sea, total lockdown.
We experienced bad weather which caused some of our stanchion posts to collapse. We used our best seamanship to protect the cargo, ship and environment, and most of all our prayers to almighty God for the safe voyage.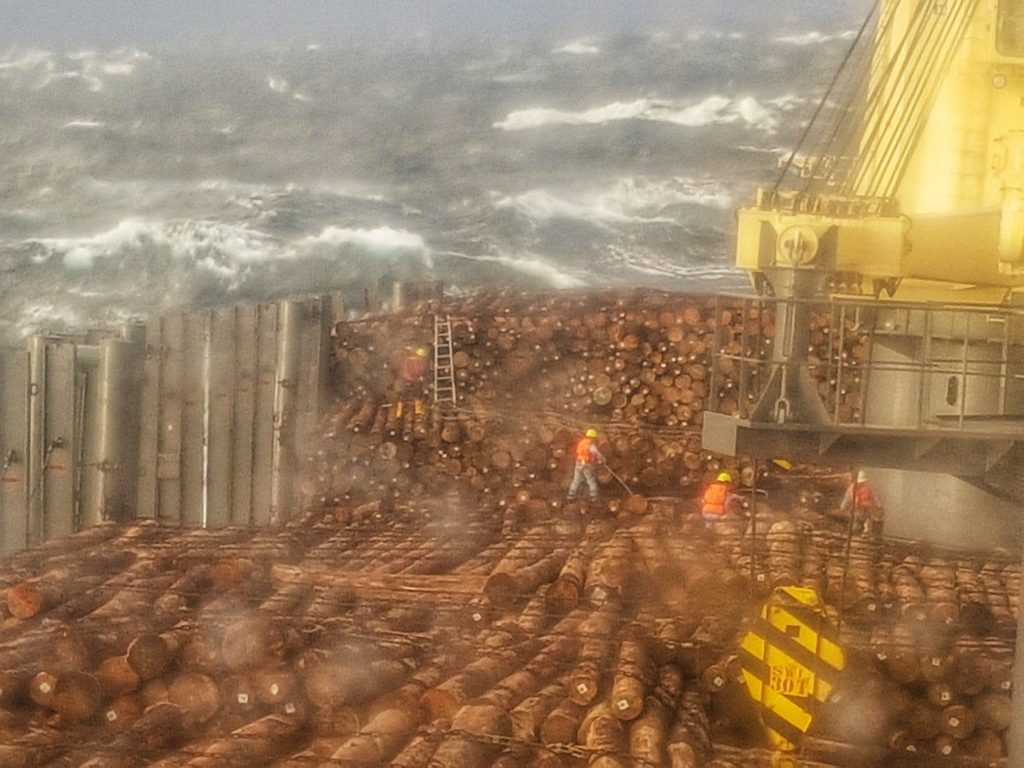 Second place: Jay Michael A.Ebueza
Secretly quiet
Amidst the pandemic, beauty exists.

Third place: Carlo deuxson Santiago
No sign off?, no problem
I was cleaning our accommodation on a Sunday morning and decided to take silly photos.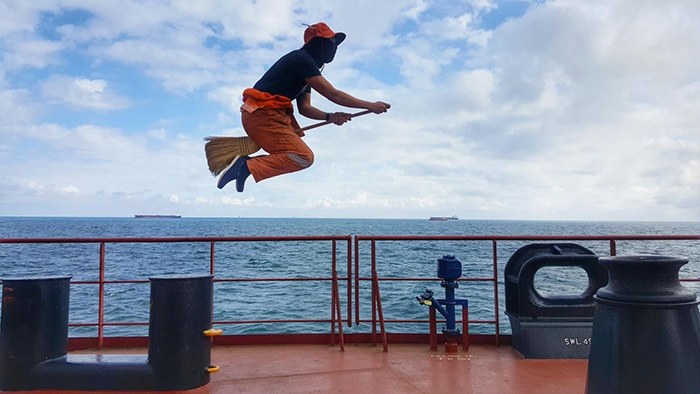 Highly commended
In addition, judges recognised three further photographs as highly commended. Ceo Angelo D. Fajardo's image of a seafarer cadet, "Back to Work"; John Rufo M. Bontilao's "Shower Party" depicting seafarers cleaning out a cathedral-like ship's hold; and Mayvine Cloma's "A Brave Woman that can make a difference" portrait of a seafarer.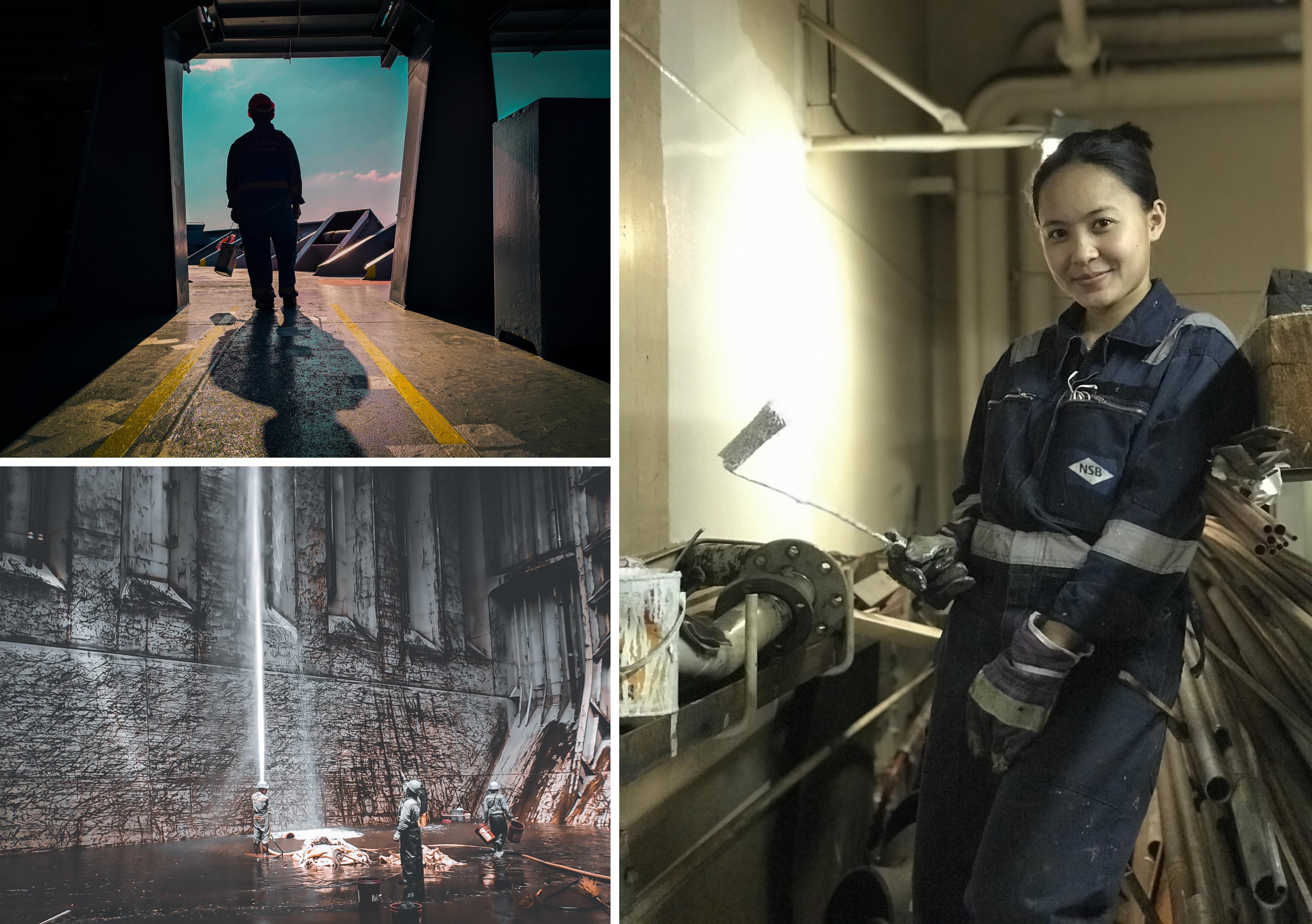 The judges
Dr. Cleopatra Doumbia-Henry, President, World Maritime University
With over three decades of professional and academic experience, Dr. Cleopatra Doumbia-Henry, an international lawyer, is the 7th President of the World Maritime University (WMU), the first woman President and the first President from a developing country.
Dr. Doumbia-Henry began her career at the University of the West Indies, Barbados and later worked at the Iran-US Claims Tribunal in The Hague, and the World Bank. She then held various senior positions at the International Labour Organization (ILO), where she spearheaded the development of the innovative and historic ILO Maritime Labour Convention (MLC), 2006, now ratified by 97 member States to date, representing 91% of the world gross tonnage of ships. 
She has published extensively on a wide range of international law subjects.
Rory Carnegie, Photographer
Rory Carnegie has won numerous awards and exhibited in museums and galleries around the world, including Russia, USA and the UK. He conceived and created the (UK) National Crime Agency's campaign on Modern Slavery, which travelled to 14 cities in the UK, and has recently ran a yearlong photographic project working with people that have experienced homelessness, in which they recreated iconic images.
Stefan F Lindberg, Photographer
Born in 1951 in Stockholm, Sweden., Stefan F Lindberg was educated in the early 1970s at Christer Strömholm's photography school. From 1996-2006 he was responsible for education at the Nordic School of Photography. Lindberg has written several educational books on photography and taught photojournalism at MidSweden University in Sundsvall.
As a photographer Lindberg has documented the development and change of the seafarer's profession during the 20th and 21st century, publishing four books on the subject. Lindberg works mainly with major photographic projects that result in books, exhibitions and films. He is currently working on a new Seafarers' project and a project on Labour Migration in Africa.
Jenn-Hui Tan, Global Head of Stewardship & Sustainable Investing, Fidelity International
Jenn-Hui Tan is Global Head of Stewardship & Sustainable Investing for Fidelity International.
Jenn is responsible for providing external and internal leadership for Fidelity's sustainable investing activities, including the strategy and policies on engagement, voting and ESG integration.
Jenn joined Fidelity International in 2007 from Norton Rose Fulbright, where he was a corporate finance lawyer advising on capital market and M&A transactions. He holds an LLB Law degree from the University of Durham.